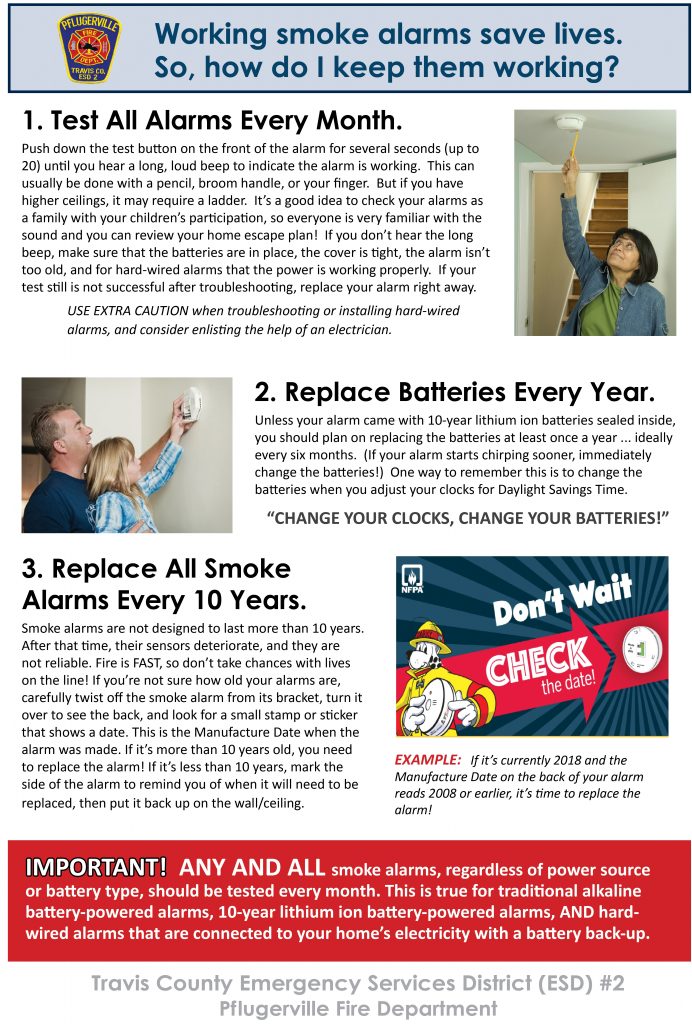 Working smoke alarms more than double your chance of surviving a fire. You typically only have around 2 minutes to escape a fire in your home, so your smoke alarm is crucial to alerting your family in time to get out safely!  You also need to install carbon monoxide (CO) alarms if your home has a fireplace, any gas-powered appliances, or an attached garage.  More information on CO alarms is found in our Get to Know CO leaflet. 
Non-Emergency Smoke & Carbon Monoxide Alarm Hotline
Because smoke and CO alarms are so important to saving lives, we are dedicated to ensuring everyone in the community is educated about them and, in certain cases, receives assistance.  Please feel free to leave a message on our non-emergency hotline at 512-989-4516.  Be prepared to state your address, neighborhood, phone number, and your question or request.  Calls are usually returned by the next business day.  If you are experiencing a fire or other emergency, call 9-1-1.
ANYONE can call our Smoke/CO Alarm Hotline for general answers to many of your smoke and CO alarm questions.  Many answers can also be found on our FAQ page.
TCESD2 RESIDENTS WITH PHYSICAL BARRIERS THAT PREVENT THEM FROM SAFELY GETTING ON A LADDER (such as mobility or vision issues) can request assistance by calling our Hotline.
TCESD2 RESIDENTS WHO CANNOT AFFORD ALARMS or batteries can request assistance by calling our Smoke Alarm Hotline.  This includes a very limited supply of special smoke alarms for the deaf / hearing impaired. NOTE: The Fire Department is not able to remove, install, or provide hard-wired (interconnected) alarms. 
Answers to frequently asked questions about smoke and carbon monoxide alarms can be found here on our FAQ webpage.