There are a few common causes of fires that you can focus on to help keep your family safe. According to sources including the National Fire Protection Association (NFPA) and Hartford Insurance, the top causes of home fires are cooking, candles, smoking materials, electrical/lighting issues, and home heating.
COOKING FIRES 
CLICK HERE for our Cooking Fire Prevention Flier (English / Spanish)!
Considering how busy and rushed our lives have become, it's easy to forget we have the stove or oven on. Set a timer to remind you to turn things off. Remember to always STAY WITH THE STOVE whenever you are using it, and never leave the house with the oven on.
Even when the stove is off—but especially when it's on—keep the area around the stove clear of flammable items such as hot pads, paper towels, cookbooks, decorations, and notes.
Thanksgiving is the #1 day of the year for home cooking fires, followed by Christmas Day and Christmas Eve. Check out our Holiday Safety flier which addresses a variety of holiday season hazards!
Keep the handles of your pots and pans turned back away from the edge of the stove, so they aren't knocked or pulled down.
If a grease fire starts in your kitchen, remember: "COVER TO SMOTHER!"

If the fire is on your stove, NEVER use water to try to put it out! Carefully turn off the heat if possible, then toss on a lid or slide a baking sheet over the fire. You may consider using a fire extinguisher—but only if the fire is small, and it's not between you and your only safe exit.
If the fire is in your oven, keep the oven door CLOSED and allow the fire to go out on its own. If it does go out, wait a few minutes then open your windows and carefully open the oven door. It will be smoky.
No matter where the fire is located, if it's not going out quickly just GET OUTSIDE to your safe meeting place. Then call 9-1-1 outside.
CANDLE FIRES   

Use candle holders that are sturdy and won't tip over easily.
Better yet, use flameless, battery operated candles!
Keep candles at least a foot from anything that can burn – such as decorations, towels, and curtains.
Never leave children or pets alone in a room with a lit candle.
Always blow out all candles when headed to sleep or leaving home.

SMOKING-RELATED FIRES   

If you're going to smoke, smoke outside.
NEVER smoke in bed! And if you're feeling sleepy or intoxicated, don't risk laying down while smoking.
Use deep, wide ashtrays on a sturdy table.
Before you throw out butts and ashes, make sure they are out. Dousing in water or sand is the best way! Never throw them in mulch or landscaping.
Never toss lit cigarettes or matches out a car window.
Teach children to never touch matches and lighters. Tell them that they're TOOLS, NOT TOYS, and if they ever find some they should go tell a grown-up right away.
Every adult in the home, including visitors, should always store matches and lighters up high and ideally locked out of children's reach and sight.
ELECTRICAL / LIGHTING FIRES  
Chargers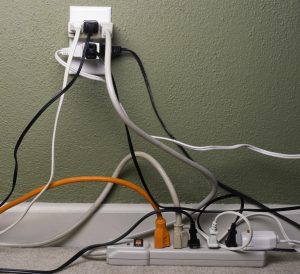 Don't charge your cell phones and laptops overnight – especially not if placed on your bed or couch where they're more likely to overheat!
Charge cell phones and laptops on a flat, open surface while you're awake and attentive.
Extension Cords & Surge Protectors  
Cords need to breathe! Give them plenty of space around furniture and each other.
Never run extension cords under anything such as doors, rugs, or furniture.
Only use extension cords with portable appliances — never with major appliances.
Surge protectors only protect against power surges, not against overheating. Never plug multiple surge protectors into each other!
It is against both Fire Code and Electrical Code to use temporary electrical power (such as extension
cords) or to display holiday lighting for more than 90 days. This is also addressed in the Caution label attached to most holiday lighting.
Outlets
Only use one heat-producing appliance (EX: toaster, coffee maker)  at a time in an outlet.  Unplug them when not in use.
Only use extension cords with portable appliances — never with major appliances.
Don't overload an outlet with too many items plugged in.
Lamps & Lights
Use light bulbs that match the recommended wattage on the sticker.
Light bulbs should always be covered with a lamp shade, globe, or guard.
Keep lamps and lights away from curtains and clothes.
HOME HEATING 
 

Never use an oven to heat your home.
Always turn off space heaters when you leave the room and whenever you're headed towards sleep.
Keep anything that can burn at least three feet away from fireplaces and portable space heaters, including decorations, rugs, curtains, pillows, baskets, and books. Likewise, follow the 3-feet rule for kids and pets to help keep them from getting burned.
Every year, get your chimneys cleaned by a professional and your heating equipment inspected.
Ensure your fireplace has a sturdy screen to stop any sparks from flying into the room. Ashes should be cool before putting them in a metal container; keep that container a safe distance away from your home.
All types of fuel-burning equipment should be vented to the outside of your house to avoid carbon monoxide (CO) poisoning. CO is a deadly gas that's odorless and colorless.