Travis County Emergency Services District # 2 (the Pflugerville Fire Department) is known as a leader in Central Texas for its focus on continuous training for all firefighters and paramedics. Our Training Unit within the Operations Division is dedicated to ensuring you stay certified, safe, strong, and properly prepared to serve. We rigorously train on skills, knowledge and physical fitness every shift at each fire station, and we also employ our Training Field for live fire, CPAT, and other drills. All first responders are required to maintain a minimum certification as a Basic Firefighter and an Emergency Medical Technician. No matter your rank or years of service, we work with you to ensure you master mainstream methodologies while going beyond to reach the cutting edge in first response.
Classroom instruction is hosted at the District's Conference and Education Center (CEC), which can accommodate Department-wide classes or company-level classes. It is located on the south side of our downtown campus at 203 E. Pecan St., Pflugerville Tx 78660.
Our Training facilities are available to other fire departments, civic groups, businesses, and education systems. Click here to request further information.
Travis County Emergency Services District No. 2 Paramedic Program
The Travis County Emergency Services District No. 2 Paramedic Program (CoAEMSP Program
#600893, DSHS Program #600157) started March 15, 2019, with the first Paramedic class. The
program consists of a total of approximately 1,486 hours divided into the following areas:
lecture, skill labs, scenario labs, hospital clinical rotations, field experiences and Feld
Internships, where students are required to complete 240 hours on an EMS unit with a minimum
of 36 ALS patients. The Program issues a Certificate of Completion upon graduation from the program but graduates are eligible to receive 40 hours of college credit for the course through an articulation agreement with Weatherford College.
Students' complete hospital clinicals in the Emergency Department, Pediatric Emergency
Department, Intensive and Cardiac Care Units, Operating Room, and Labor & Delivery with St.
David's Healthcare and the Ascension Family of Hospitals. EMS rotations are completed with
Travis County ESD #2 and Georgetown Fire Department.
Travis County Emergency Services District #2's  Paramedic program has been issued a Letter of Review by the Committee on Accreditation of Educational Programs for the Emergency Medical Services Professions (CoAEMSP Executive Office). This letter is NOT a CAAHEP accreditation status; it is a status signifying that a program seeking initial accreditation has demonstrated sufficient compliance with the accreditation Standards through the Letter of Review Self Study Report (LSSR) and other documentation. Letter of Review is recognized by the National Registry of Emergency Medical Technicians (NREMT) for eligibility to take the NREMT's Paramedic credentialing examination(s). However, it is NOT a guarantee of eventual accreditation.
__________
2020 Paramedic Program Outcomes
Paramedic Program with Outcomes CAAHEP Accredited Paramedic Programs and CoAEMSP Letter of Review (LoR) Programs track and report outcome measures annually to the Committee on Accreditation for the Emergency Medical Services Professions (CoAEMSP). The most current CoAEMSP Annual Report was for the calendar year 2020.
The most recent success rate for the National Registry of EMT Paramedic/State Cognitive exam was 100%.
The most recent positive placement rate for graduates was 100%. Positive placement is defined by the CoAEMSP as 'Employed full or part-time in a related field and/or continuing his/her education and/or serving in the military'. Positive placement is measured at completion of the program.
The most recent retention rate was 100%.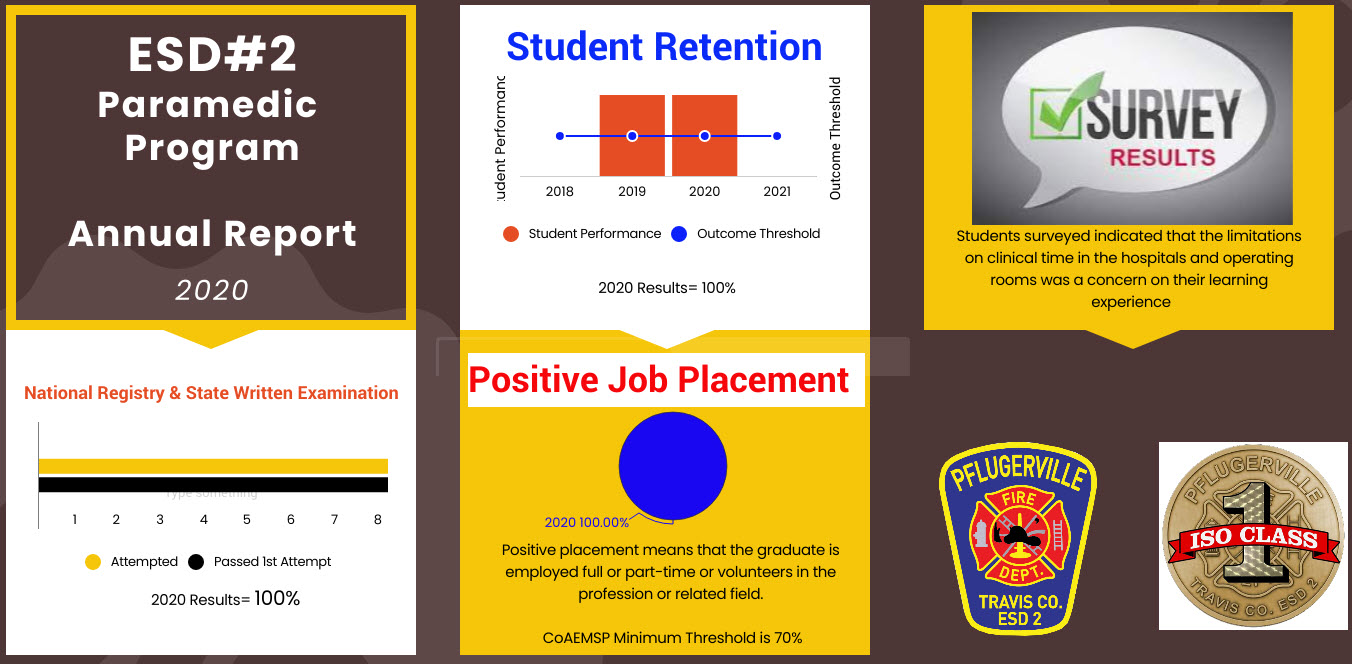 To contact the CoAEMSP Executive Office: 8301 Lakeview Parkway Suite 111‐312 Rowlett, TX 75088 214‐703‐8445 FAX 214‐703‐8992 www.coaemsp.org