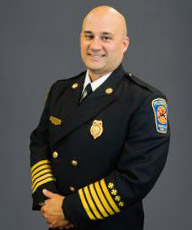 Chief Perkins was appointed the Fire Chief on October 1, 2021. He joined the District in 1998. During his 23 year career with the District he has risen through the ranks becoming a Chief Officer in 2011. He has worked as the Assistant Fire Chief, a Shift Commander, and as the Training Division Chief before being appointed as the Fire Chief.
Chief Perkins graduated from the San Antonio College Fire Academy in 1997, and went on to work on an ambulance for a rural EMS system before joining the District. He has earned an Associates Degree in fire protection technology from Austin Community College in 2001, a Bachelor of Applied Arts and Sciences Degree from Texas State University in 2013, and a Master of Public Administration Degree from the University of Texas at Rio Grande in 2018.
Chief Perkins has managed multiple high profile incidents, including multi-alarm fires throughout his career. He has a history of developing industry leading community, training, health, and safety programs. He has established and taught fire protection technology programs in central Texas high schools and at the collegiate level.